June is Rose month. Roses are my favorite flowers – in all colors from white to black and every shade of peach, yellow, pink, and purple, inbetween. So it was my pleasure today to create and add two new rose coloring pages, a nice mature rose coloring page, and a rose mandala coloring page. Here are the thumbnails – click on them for full size;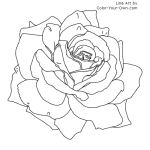 You will also find more Rose Coloring Pages in the holiday section for valentines and easter and I will probably add a few more this month.
In May, Color-Your-Own.com had 39,000 page views and earned about $13.00 from Google, mostly from search. I know many of you also visited my Squidoo pages with clipart, coloring pages, and coloring books and I hope some of you visited my Zazzle store but I can't find stats to confirm that. This blog has an amazing number of visits, and carries ProjectWonderful ads that earn $2 or $3 a month as well. Webhosting for Color-Your-Own.com costs about $10 a month, and at the end of June it will be time to renew the domain again, for $12. As you can see, this is pretty much a non-profit.
And people are still stealing my work and using it for commercial purposes. I love you, you are so wonderful. You make me feel so special when you strip the credits and use my work without naming the site or linking and make money from it. It is good to know that you believe my original art is completely worthless – or at least, you should get it for FREE and then get to MAKE MONEY WITH IT.  And if I should complain – I am the bad guy!
I did take the donation buttons off the navigation and ads because you guys don't seem to feel my work is even worth a few pennies. It has been over a year since I received a donation – and the grand total of donations over several years is $110. One donation of $100 when my husband was so ill from another, commercial, coloring website who wanted to use my drawings – one other of $10.
And yet – 39,000 page views. Awesome. At least I know my work is being used and enjoyed.  I bet the people who steal it get even more page views!  (That's how it usually works, people who can't create steal artwork all over the web, invest in a big fat commercial website with lots of pop-ups and malware and a ton of advertising and make gobs of money with tricky ads and earn the respect of their peers and the banker)
Ah well – back to my lonely artists cell – ROFL.
Blessedbe
Summer Foovay