This is M in the April A to Z blogging challenge.  I'm sorry, I had to remove the widget that would take you to the next blog  – it was somehow interfering with the other widgets? Weird.
I have faced my fears again, and created three new spring themed mandalas for you to color!  If I can create mandalas, you can, too.  Read this lens to find out how. Meanwhile – enjoy these three spring mandalas featuring designed inspired by butterfly wings, mother goddess (Ostara), and spring lilies. As always you can go to the full size coloring page by clicking on the thumbnails, or the links below.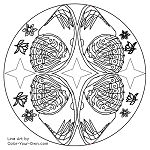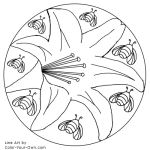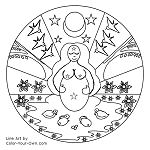 Butterfly Wing Mandala Coloring Page
Mother Goddess Spring Mandala Coloring Page
Lily and Bee Spring Mandala Coloring Page
Enjoy!