This post is "G" in the April A to Z Blogging Challenge
It may seem a little fishy – but after looking at all the lovely aquariums yesterday, I wanted to do a goldfish coloring page today. 

Since I was such an overachiever yesterday that I did four coloring pages, I held it down to one today.  I know, there are so many marvelous varieties of goldfish – but if you say "goldfish" to most people I believe they think of this guy – your average fantail or veiltail goldfish.  They come in so many colors, I left colors and markings out so you can go crazy on him.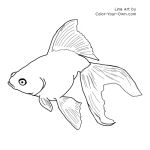 Goldfish Coloring Page
Now I want a new fish tank! I'm not sure where I would manage to squeeze on into this little house. Perhaps just a small betta bowl for my desk…