The new of Elizabeth Taylors death hit me hard. I don't buy into the cult of celebrity – but there are certain people who are clearly special and she was one of them. I remember watching National Velvet for the first time and being moved by it. I fell in love with Elizabeth when we were both girls.
This is my tribute to her. A coloring page of young Elizabeth Taylor with a horse. When I went looking for reference photos of her with horses there were many of them. It is clear that she had a real love for horses.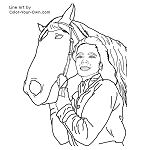 This was a pretty scary project for me. I'm still getting used to the idea that I can draw people – attempting a portrait with a good likeness was a big leap. However, I think it turned out okay. I hope you like it. The photo of young Elizabeth Taylor with a horse that I used for a reference is also available as a poster at AllPosters. Perhaps you'd like to order one. I think I will.


Actress Elizabeth Taylor with Saddle Horse After Her Smash Movie Debut in "National Velvet"

Later today I will get back to work on the big cats, Irish and Easter subjects – but I wanted to pause and create this. I also have some nice references of Elizabeth in Cleopatra, and a "cheesecake" pose I am partial to. If you seem to like the line art of Elizabeth Taylor, I will try and get the other two done as well. I also added a new category of coloring pages – famous people. Since St. Patrick was received so well, and I see searches for various famous people such as President Obama, I think I may have to add some more of these!
Enjoy.