This is N in the April A to Z Blogging Challenge
I've spent much of today looking at wonderful photos of Newfoundland dogs and reading about the breed.  I was disappointed in that I couldn't find a photo of them at work – or at least not a good enough photo to use for a reference of Newfies drawing a cart, or far more important, working as a SAR dog or even swimming.  The Newfoundland dog is most famous as a rescuer of drowning sailors – or anyone else who has a water mishap.  I'm enough of a perfectionist that I won't work without some sort of reference, so I hope you are willing to settle for this standing Newfoundland dog, and one of the irresistible fuzzy Newfie puppies!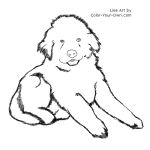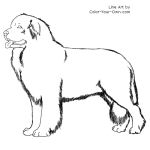 Newfoundland Dog Coloring Page
Newfoundland Puppy Coloring Page
Enjoy!