I don't know what I was thinking when I signed up not only Foovay's Cauldron for the April A to Z Blogging Challenge but also THIS blog! Am I crazy? (Don't answer that)
On top of that, one thing and another came up – making April 1st a very busy day. But I still managed to get you not one, but three new coloring pages, with Angels – since that seemed to be the theme for the day one way and another. First I got to enjoy my Squid Angel status by joining all the Squid Angels in a Neighborhood Tour. Later my hubby discovered his payment had arrived early – a real blessing since we had been lied to about another benefit last month that left us literally out of food. No fun for me, life endangering for him. On our way home from shopping we got to be angels again – donating some money to a young lady who was stranded, out of gas, and out of money. It's just an angel kind of day!
I did something very unusual for me today. While looking for some reference photos of angels at FromOldBooks.org – an excellent source of public domain art and line drawings, I ran onto a drawing that was perfect in almost every way – except the lines were gold rather than black. So I took it into PaintShopPro9 did just a bit more tweaking, and here it is;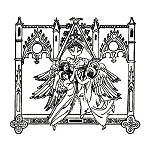 You can click on the thumbnail or here for the Angels of Peace Coloring Page. You'll notice it does not say "Line Art by Color-Your-Own.com" on it anywhere – I didn't draw it. It is in the public domain, however, so there is no reason I cannot tweak it for you and share it. FromOldBooks.org has many line drawings that with just a bit of work could work well for coloring pages – you might want to check it out!
Here are the two angels I drew;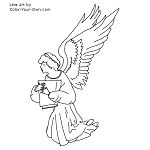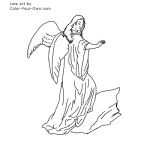 Angel Blessing Coloring Page
Kneeling Angel with Book Coloring Page
I started a new section in the menu for angels – I couldn't figure out where else to put them!
Most of my time this week has been devoted to working on my Zazzle store, Enchanted Greetings and Purebred Pets on Postage. It isn't finished yet, but it is looking a lot better. More products, and much better organization coming soon…
See you tomorrow with some B's